Aaron Holder breaks the mold with his debut album "Something Stronger." Already being featured on reverbnation.com home page, a worldwide media outlet for all artists. This skillfully constructed album expands the boundaries between Jewish and mainstream music by using elements of Folk, Pop, Country, Rock and hint of Reggae, laced with a deeply spiritual vibe. Aaron has already made a name for himself in the Jewish community with his inspiring songs and moving performances but this much anticipated album takes him to another level, crossing him over to the general public. He has already gained the respect from fans worldwide and played internationally with various seasoned musicians. In the process of making his album, Aaron graciously accepted the help from musical heavyweights such as 27 time gold and platinum musician Steve Gordon, Matt Kramer, the lead singer of Saigon Kick who's album, "The Lizard" reached Top 10 on the Billboard charts, and produced by the owner of W4M Studios, Ovadiah Tank.
Aaron truly speaks to the listener, and with his unique soulful voice ranging over three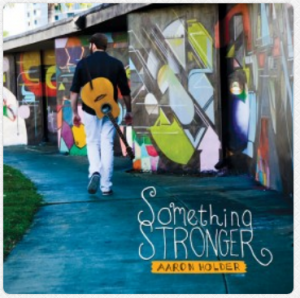 entire octaves, he keeps you captivated and yearning for more. Aaron has overcome
challenges of his own after being bullied throughout his youth and set apart from his
peers for being different. The positive outlook instilled in him by teachings of the
Lubavitcher Rebbe, Menachem Mendel Schneerson, gave Aaron the strength to remain true to himself and use his uniqueness to create a masterpiece. "Something Stronger" is the canvas for Aaron's own experiences and struggles. The lyrics paint a beautiful picture that can be interpreted in multiple ways, allowing the subjective ear to incorporate these messages into their own life's challenges. Aaron's approach to this album is very well rounded and diverse as evident by various influences such as Mumford & Sons, Bob Dylan, Johnny Cash, The Beatles, Matisyahu, One Republic, Josh Groban, Bruce Springsteen, and Shlomo Carlebach.
"Aaron Holder comes out and shows a unique style that is radio friendly with a voice that relayspassion and conviction." – Steve Gordon (27 time gold platinum musician)
"Something Stronger is a true original, setting new standards for alternative Jewish Music" -Moshe Hecht (Hassidic Folk singing superstar)
"To capture relatable emotion through a song takes going through life with a open mind and letting people into your own. When listening to "Something Stronger" I felt connected to the songs as though they were being sung to me, with its unique twist on County-Pop, deep vocals relatable lyrics with its sing along tunes, Aaron surpassed all my expectation with this album." -Avi Werde (CEO of Event Connection Source)
For more info on Aaron Holder go to http://aaronholderworld.com/
To preview or purchase this album you can go to any distribution site such as iTunes:
https://itunes.apple.com/us/album/something-stronger/id655787984
http://www.youtube.com/watch?v=Z3S_OO7TMcY